I have always been fascinated with tractors
With a Sales & Marketing degree, Laura first spent ten wonderful years in the tourism industry and was looking for a new challenge when she came across the job vacancy at SMT on a website.
Though she had been working in the logistics field for years dealing with countries all over the world, West Africa remained a big challenge for Laura and she wanted to discover this part of the world. Also, she has always been fascinated by trucks since her father worked in the sugar industry and drove tractors.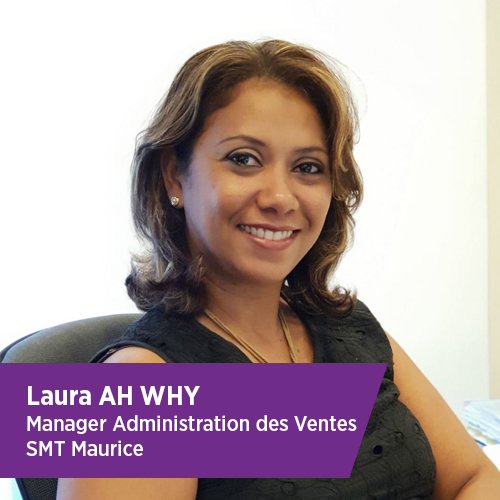 We work hand-in-hand respecting each other and following the same strategies
The main challenges faced by Laura come from the growing demands and changing needs of the customers. Also, higher fuel prices are likely to increase transportation costs and customers are unwilling to pay higher freight rates.
At SMT, colleagues work in different countries with different cultures and languages, Laura believes everyone still work hand-in-hand respecting each other and following the same strategies.
Laura says she was always passionate about logistics, and working at SMT, moving heavy construction machinery and dealing with professionals all around the world, completes her perfect picture. She is simply happy to come to work every day!
THE KEYS TO SUCCESS?
« Positive attitude, believing in yourself, hard work, passion, wise choices and persistence »
THREE ADVICE?
« Believe in yourself… And If you allow me, I would quote Sheryl Sandberg: If you are given a seat on a rocket ship, don't ask what seat, just get on! »
YOUR SMT ATTITUDE?
« Respect is at the heart of our interactions »