By choosing two Volvo wheel loaders L120Gz, CMM invested in a reliable brand with a good offer of maintenance and and monitoring.
Ciments et Matériaux du Mali (CMM), a subsidiary of the Vicat Group, specialised in the production and distribution of cement in Mali. To ensure the operation of its cement plant with a capacity of 800 000 tonnes a year, the company has substantial human resources and two Volvo wheel loaders L120Gz.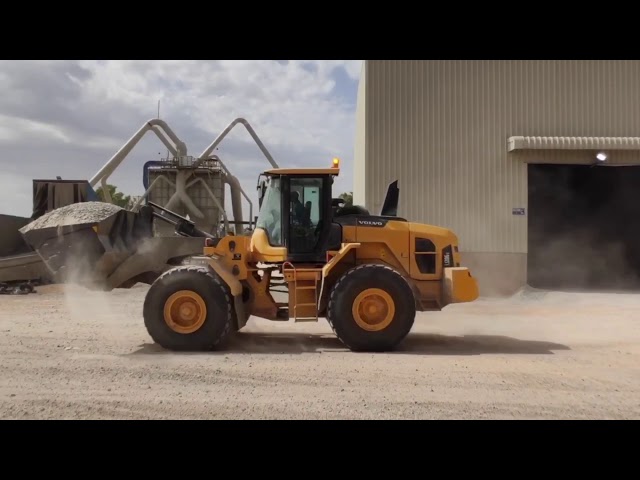 Established since 2004 in Bamako, CMM produces high-quality cement at its grinding site located in Diago, 35 km from Bamako. Today more than 150 people work on site. To ensure the productivity of its activities, the company recently invested in two Volvo wheel loaders L120Gz by signing a maintenance contract with the local Volvo dealer, the company SMT.
This acquisition is part of a larger investment project. The purchase of a new crusher in September 2019 required the acquisition of machines responsible for stacking aggregates. Indeed, the loader in place during the construction of the plant was too large and was not as handy as desired. The two Volvo wheel loaders L120Gz are more versatile and allow faster and easier filling of the crusher. So these loaders take turns feeding the crusher practically 24 hours a day for better productivity.
One of the decisive points in the purchase by CMM was the speed and efficiency of on-site loader maintenance. Indeed, the role of the loaders is essential to the supply of raw material to the crusher and to the continuity of cement production in the factory. Therefore, these cannot be unavailable for too long to carry out routine maintenance.
The most important point for us was the relationship with the brand, the availability and the speed of maintenance of our machines. SMT was able to meet and exceed our expectations. We now have a technician dedicated to our two Volvo wheel loaders on our site thanks to our maintenance contract.
With hot and dry local working conditions, it was certainly important to have a loader with good value for money. Above all it was necessary to have an aftersales service corresponding to the expectations of the CMM company.
We needed a loader that suited our needs and was of good quality. Several operators take turns in the cabin to supply the crusher. So we had to invest in a reliable brand with a good offer of maintenance and monitoring.
After several months of running-in of the two Volvo wheel loaders L120Gz on the cement plant site, the CMM company is satisfied with its investment, both in the relationship it maintains with SMT and in the aftersales service and the quality of its new loaders.
Find out more about Volvo wheel loaders Gz series here.
Discover our full range of Volvo Construction Equipment