SMT Africa, through its Cameroonian subsidiary, actively participates in the Africa Cup of Nations (AFCON) which takes place from January 9 to February 6, 2022, through the distribution of the 24 buses of the participating teams to its client Transu Voyages.
These buses are made of a Volvo B11R 4×2 chassis and a Marcopolo Paradiso 1200 body supplied by GBpolo. They meet sanitary conditions and international standards.
The organising committee is now logistically equipped for the transport of the 24 teams participating in the competition: Algeria, Burkina Faso, Cameroon, Cape Verde, Comoros, Côte d'Ivoire, Egypt, Ethiopia, Gabon, Gambia, Ghana, Guinea, Guinea Bissau, Equatorial Guinea, Malawi, Mali, Morocco, Mauritania, Nigeria, Senegal, Sierra Leone, Sudan, Tunisia and Zimbabwe.
SMT Cameroon ensures the maintenance of these buses during the entire competition. Teams of qualified technicians are deployed in the five cities: Yaoundé, Douala, Bafoussam, Garoua and Limbé to intervene as soon as possible if necessary. SMT set-up will ensure the reliability and safety of the buses which is essential for the transport of players.
The buses paraded in the streets of Cameroon's capital, Yaoundé, and now symbolise the quality of the welcome that Cameroon gives to its guests, as part of the biggest celebration of African football.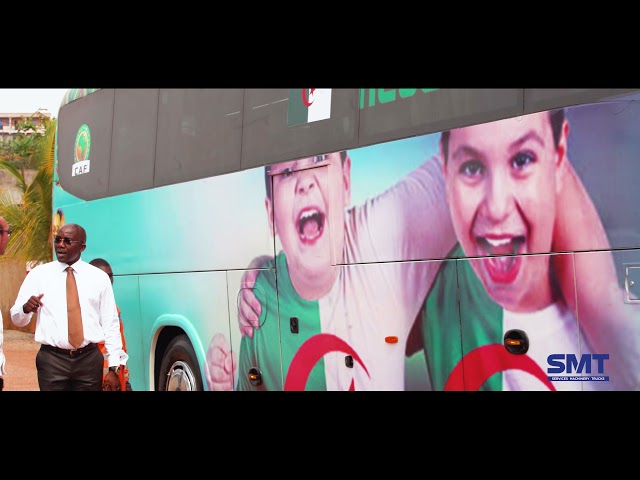 SMT Africa
SMT is a premium distributor and aftersales partner for the equipment and transport industry. At SMT, we place our customers at the heart of everything we do, building long-term partnerships that you can rely on to support your growth.
Contact :
Marie Delorme
Marketing & Communication Manager
+32 2 234 33 14
+32 474 94 46 15
marie.delorme@smt.network