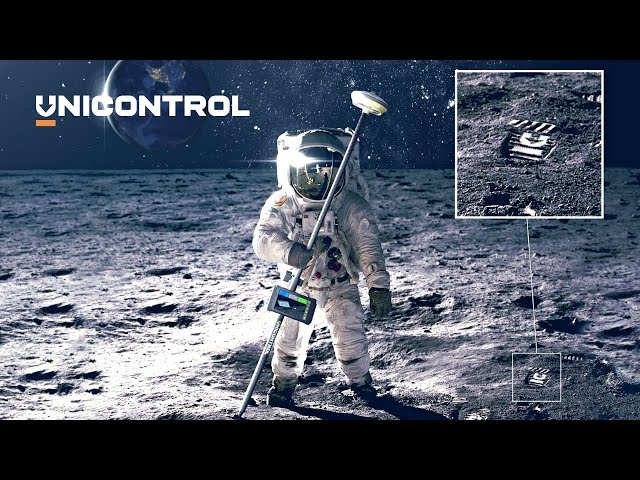 The Unicontrol GNSS Rover with built-in tilt compensation combines a high-performance GNSS receiver with our well-known intuitive user interface.
Achieve efficient and hassle-free surveying, where you can share charts and points directly with other Unicontrol devices. A versatile tool that enables reaching complicated points in ditches or holes with 60° tilt compensation – UnicontrolRover makes surveying flexible and easy.
UnicontrolRover is a high-precision surveying tool, and it requires no previous experience to use – surveying made for everyone on the construction site.
Fast Synchronisation Between GNSS Rover And Machine
With UnicontrolRover you can measure and set off points, lines and surfaces easier than ever before. Work files are instantly synchronised with UnicontrolCloud and shared directly with machines and workstations. With UnicontrolRover you can work independently or together with other systems from Unicontrol in perfect harmony to optimise time and collaboration on the construction site.
UnicontrolRover supports the entire construction process from surveying, drawings and ultimately quality control – a complete piece of surveying equipment.
A GNSS Rover Everyone Can Use
Unicontrols familiar and easy-to-use Android tablet streamlines the surveying process. The intuitive user interface offers easy access to key features and data in Unicontrol3D while surveying. In addition, it provides a complete overview of the construction site and points in 3D. With the integrated tilt compensation, you can increase productivity and deliver precision without waiting!
With a few taps on the screen, you are in the process of surveying and placing points. UnicontrolRover is the first Rover solution that can be used by everyone on the construction site.
UnicontrolRover is easy and intuitive to use – this also applies to people without a background in land surveying.
A Reliable And Precise Partner For Surveying
The high performance GNSS antenna receives all signals including GPS, GLONASS, BeiDou & Galileo and connects with up to 800 satellite channels. With a GNSS receiver from Unicontrol, high quality results are guaranteed during the surveying process. Set points and lines with millimeter precision and achieve reliable surveying that is possible for everyone to do!
In combination with the 4G network and the built-in radio, which ensures a stable network and fast response time, the UnicontrolRover is a reliable surveying tool that can work without a total station.
With the built-in tilt compensation of up to 60°, you increase productivity and precision without stopping!
Want to find out more? Our UK based team will be happy to help! Contact us below.