Levelling sites, digging trenches, grading slopes – or creating complex, multidimensional site profiles – all have never been easier, thanks to Dig Assist.
Powered by the Volvo Co-Pilot in-cab tablet and incorporating sensors and the latest location technology (GNSS), Dig Assist delivers incredible excavation accuracy in a fraction of the time normally taken using conventional methods. Technically sophisticated, Dig Assist's intuitive intelligence makes every operator your best operator – maximising machine productivity.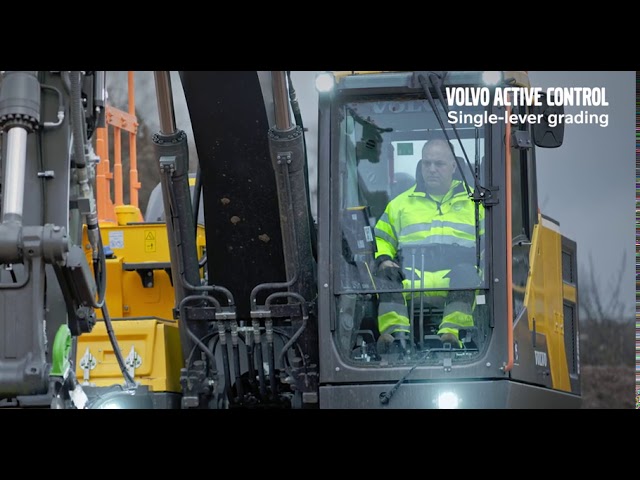 Download Dig Assist Brochure
Volvo Active Control
Your work day just got easier with Volvo Active Control. Automated boom and bucket movements make the digging process more efficient and more accurate, with less effort. Simply set the grade, push the button and get the work done – all controlled using a single lever.
2D
Intended for site levelling and profiling slopes, 2D uses real time data to clearly show operators when target depth/slope levels have been achieved. Safety is also optimized, as there is no need to manually check grades or levels. 2D allows for high levels of accuracy, faster completion times and less under/over excavation. Helps operators of all skills and experience achieve higher productivity.
In-field design
In-Field Design uses GNSS and RTK navigation technology to offer centimeter-accuracy for excavation jobs. It allows to dig trenches and more complicated shapes on 3-dimensions, which the operator easily defines on the Volvo Co-Pilot tablet. Eliminates the need for surveyors to mark out the excavation site.
3D
The ideal choice for complex and larger infrastructure projects. Offering full three-dimensional functionality, TopCon 3D MC and Trimble Earthworks for Dig Assist allow designs to be uploaded into the Volvo Co-Pilot. Simply import a project file and get to work, resulting in enhanced productivity and efficiency.
On-board weighing
Say goodbye to guesswork with the On-Board Weighing option, providing real-time insights into the bucket's load. For optimal loading, operators can set limits per truck/hauler type. The system counts all buckets unloaded in a pre-defined truck loading zone. Total tonnage moved is also recorded (e.g. per shift or day).