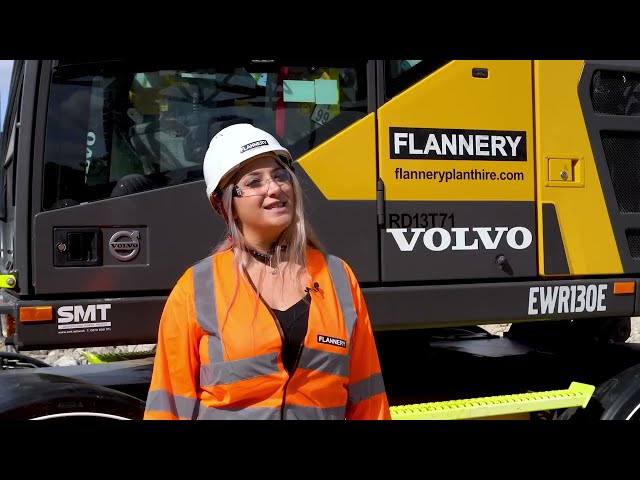 Flannery Plant Hire has taken delivery of Great Britain's first Volvo EWR130E wheeled excavator from SMT GB, putting it straight to work at the HS2 Victoria Road Crossover Box site in West London.
On this project, Flannery is supporting its customer SCS Railways – a joint venture between contractors Skanska, Costain, and Strabag – to construct the huge underground box structure that will hold the crossover track mechanism for trains to switch between tracks as they travel in and out of the HS2 Old Oak Common station.
The Volvo EWR130E is currently excavating foundations for a large conveyor that will carry material from the crossover box excavation site all the way to Willesden Euro Terminal where it will be transported away by rail, reducing both road traffic and emissions from the site.
Despite the vast size of the project, conditions are tight, and Flannery needed an excavator that could easily manoeuvre around the site and dig in confined spaces.
Compact and versatile
"The EWR130E is a versatile machine that is good to use because it's compact, easy to move around and can work within the small areas we have on site," said Jason Wells, Foreman at SCS Railways.
Continuing, Jason added: "From my perspective, Flannery's Volvo machines have been doing everything we need them to. They've been working efficiently, reliably and contributing to the health and safety on site, which goes towards delivering the project on schedule and on budget."
The Volvo EWR130E wheeled excavator is able to take on jobs that a conventional excavator cannot, thanks to its new boom and arm design, which possess the shortest front (1.81 m) and rear (1.55 m) swing radius on the market.
The footprint is also kept small by the inline outriggers which, along with the divided blades, help the operator to position and stabilise the excavator within a wide variety of locations.
Easy transport
When Flannery needs to move the EWR130E between jobsites in the future, the low machine height and optimised tie-down points on the lower frame will make it easy to transport.
After a few weeks at the controls, Flannery Operator Alex Moraru is already a fan. "I would drive it home if I could. It's a really good machine to drive all day," he said.
"The seat is really comfortable, the buttons are easy to reach and the shortcuts are really useful. I also like the Volvo Smart View, where the cameras show a 360° view of the machine. This is a great safety feature when you are working in tight spaces, and where you have other people around you on site."
Simple maintenance and low fuel consumption
Alex also praised the machine's ease of maintenance and low fuel consumption. "It's very easy to maintain. The greasing points are easily accessible and gathered together in two places only, which you don't often see on competitor models. A good thing as well would be the fuel consumption, which is really low. I wouldn't expect it to be so low for the size of the machine."
Laura Bradley, Marketing Manager at Flannery, added: "The EWR130E has been a great addition to our fleet on the HS2 Victoria Road Crossover Box site, and we are very happy with it so far. We've had great feedback from the operator and are looking forward to seeing it develop."
Long-term partnership
Besides the favourable specifications of the Volvo EWR130E excavator, Flannery chose to work with SMT GB because of the strong relationship between the two companies, their shared values, and the dealer's reliable service support.
"We have a great partnership with SMT GB that we have been developing over the years. We have a lot of Volvo machines in our fleet, we are very happy with how they are performing, and are going to continue investing with SMT GB," Laura said.
"They're great for safety and sustainability, which are core values for our business, and it's good to be able to instil this with our customers through machines such as this, and any issues we've ever had, they've been very quick to resolve," she continued.
Alan Shea, Regional Sales Manager at SMT GB, added: "We are delighted to have been given the opportunity to support a big tier one company such as Flannery on major infrastructure projects, including HS2. We have an excellent working relationship with them and are always looking to help them get the best out of their machines. For example, we use telematics data to monitor idle times, fuel burn, and fault codes to be proactive in our servicing, maintain uptime and decrease their total cost of ownership and operation.
For more information contact:
Alex Cox
Marketing & Communications Officer
SMT GB
01223 251815
alex.cox@smtgb.co.uk<
Hannah Kitchener
PR Support
SE10
07432 296296
hannah.kitchener@se10.com
About SMT
SMT GB is the exclusive dealer of Volvo Construction Equipment and K-Tec Earthmover products in Great Britain. In addition to delivering industry-leading product support throughout England, Scotland and Wales, SMT GB provides a range of end-to-end efficiency and productivity boosting solutions, which ensure customer investments are protected and profits are maximised.