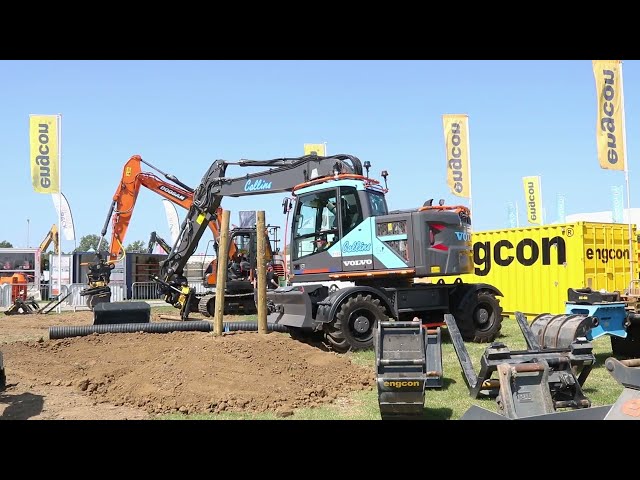 Tasked with carrying out civils, earthworks, finishing and infrastructure work, having a reliable and versatile machine is a key requirement for a Collins Earthworks operator.
To provide its operators with the right equipment to carry out their jobs, the Collins Earthworks fleet is mainly comprised of Volvo Construction Equipment products, which includes a number of Volvo wheeled excavators.
Working for Collins Earthworks as a wheeled excavator operator for the past five years, Will Goldstone is one such operator to have benefitted from the company's decision to go with Volvo, and has worked on several key infrastructure projects, such as the East Midlands Gateway and Northampton Gateway projects.
"My last machine was a Volvo EWR170E, and I had an EWR160E before that, so this new machine is my third Volvo wheeled excavator while I've been working for Collins," explains Will Goldstone.
When asked for his opinion on the previous machines and support provided by SMT GB, Will states: "They've all been fantastic! I've never had any major issues or real unscheduled downtime with any of them – it's only ever been minor issues that have been fixed the same day."
Presented in a striking custom Collins blue and Volvo grey colour scheme and livery, Will's new EWR170E stands out on a jobsite immediately. The machine also benefits from an extensive list of customised specifications, including an Engcon tiltrotator and quick coupler, a two-piece boom, boom suspension, Super Single wheels with 600/50 22.5 tyres, trailer hitch and brake circuit, a Volvo 360 degree camera system, a luxury seat, Comfort Drive Control steering, MITXX light bars and additional LED lighting for the front, sides and rear, all of which serve to greatly increase the versatility of this already highly capable machine.
Additionally, Will's new EWR170E is supplied with a Level 2 Customer Support Agreement, ensuring that SMT GB's team of highly trained engineers will proactively maintain this new machine for Collins Earthworks, maximising machine uptime, while minimising maintenance costs.
Based in the Midlands, Collins Earthworks has been providing professional, flexible and reliable earthmoving project management services nationwide for over 20 years.
Together with an extensive fleet consisting primarily of high quality Volvo Construction Equipment products, Collin Earthworks' ethos of 'promoting consistent good workmanship throughout' has led the company to work on a broad range of high-profile earthmoving projects, including the ongoing construction of Leicester City Football Club's new training ground, the Rugby Gateway development and the East Midlands Gateway project.
For more information contact:
Alex Cox
Marketing & Communications Officer
SMT GB
01223 251815
alex.cox@smtgb.co.uk<
Hannah Kitchener
PR Support
SE10
07432 296296
hannah.kitchener@se10.com
About SMT
SMT GB is the exclusive dealer of Volvo Construction Equipment and K-Tec Earthmover products in Great Britain. In addition to delivering industry-leading product support throughout England, Scotland and Wales, SMT GB provides a range of end-to-end efficiency and productivity boosting solutions, which ensure customer investments are protected and profits are maximised.