Volvo has over thirty years' experience in waste handling and offers the market's widest range of purpose-built machines; all designed to meet high industry demands for safety, dependability and cost efficiency.
Environmental demands regarding waste disposal and recycling have increased dramatically. Much more is expected not only of those working with waste, but also of those supplying the machines to gather, sort, process and dispose of the growing mountains of waste. Volvo has always been driven by the strong core values of Quality, Safety & Environmental care. Today, these core values are more relevant than ever; not least in waste management.
Wheeled Loaders
Specialised tasks require specialised equipment, which is why Volvo Construction Equipment offers wheeled loaders configured to meet the unique requirements of a wide range of waste, recycling & material handling tasks.
Application specific wheeled loaders are designed and built to ensure you achieve superior results, according to the unique demands of the segment you are working in. The right machine options, tyres and attachments all combine to ensure Volvo's specially adapted wheel loaders deliver maximum safety and performance. As with all Volvo products, you can trust in the full support and back-up provided by SMT GB for the lifetime of your machine.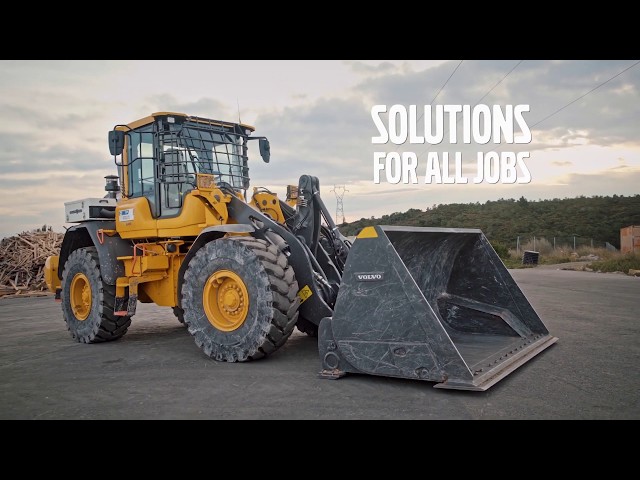 Excavators & Material Handlers
Throughout the decades, Volvo wheeled excavators have proven to be reliable multi-purpose machines. Our EW240E MH is specifically designed for waste and recycling industries and offers a spacious Volvo cab, which can be raised up to five meters above the ground, for an eye-level view.
Any Volvo excavator can be configured both inside and out to suit your business needs. From waste handling to scrap sorting, you can maximise your machine's productivity with a range of durable grapples – available to you through the Volvo factory. To facilitate easy operation, the Attachment Management System stores the settings for up to 20 different attachments, getting you back to work as fast as possible.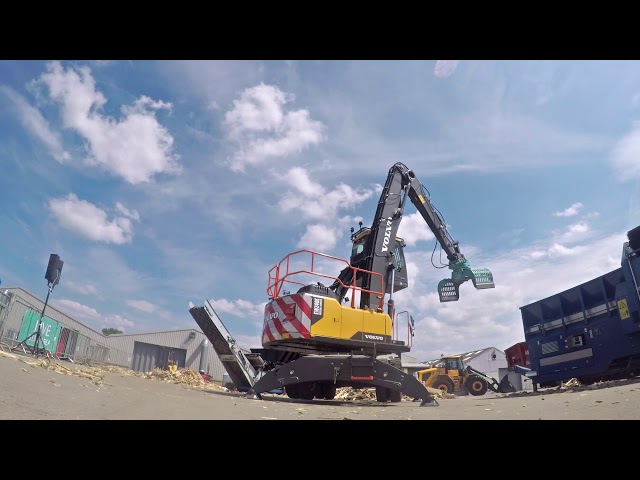 The Strength to Support Your Business
This L90H Loading Shovel is equipped with a 3m3 Hi-Tip bucket, complete with top clamp. This has been key to handling the veriety, weight & density of the materials arriving on-site. This machine is also fitted with a BM AIR filtration system to filter and pressurise the air entering the operator's cab. This eliminates dust and odour arising from handling decomposing materials. The system includes an audible and visual warning if the pressure drops inside the cab.
The A25G Articulated Hauler was requested by a customer who needed a machine with high carrying capacity and the all round capability to go anywhere on-site, irrespective of the ground conditions. This Articulated Hauler was fitted with an optional cantilever tailgate and side extensions to carry the maximum payload and volume, which equates to 17.6m³ and is ideally specified for hauling the typical light and loose flowing materials that can be found on-site.
Specifically designed for waste and recycling industries, the EW240 MH is perfect for waste handling activities. This machine works a 12 hour shift seven days a week, loading either high-sided bulkers or a high capacity mobile shredder. 50,000 tonnes of waste will be handled by the machine each year. This material handler is fitted with a fire suppression system, auto-greasing system and flashing rear blue strobe lights.
This EC200E excavator is equipped with a selector grapple and is in charge of sorting incoming material, which is comprised of general industrial inert waste, skip waste, rubble and demolition waste.
It works alongside an EC220E, which was chosen primarily to load concrete, rubble and hardcore into a primary crusher, in addition to breaking up larger oversized material with the aid of a hydraulic hammer and a hydraulic pulveriser.